Solar Screens
Bug Screens
Motorized Shades
Manual Shades
Screened Porches, Patios, and More
Commercial Services
The Texan Advantage
Texan Solar Screens has been installing solar screens in Houston, TX and the surrounding areas since 2001. As one of the largest solar screen dealers and distributors in the state we have the buying power to get the best prices on the best products available. Rest assured we'll get you a great product professionally installed a great price.
Our knowledgeable staff can help you save money on your energy bills and enhance the exterior aesthetics of your home.
We go all over town to deliver you the best prices and service. Whether you're in Kingwood or Katy we'll get to you. Our corporate offices are just north of Spring in The Woodlands but we've got technicians all over the city to serve your needs.
Call or email us today for a FREE ESTIMATE!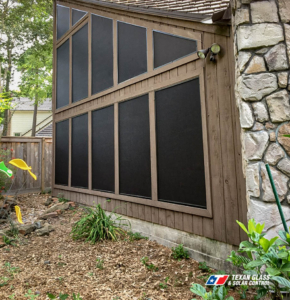 Solar Screens are a woven mesh product installed on the exterior of your windows that block the heat of the sun while still allowing visibility from the inside of the home to the exterior.
To save on energy costs, The Department of Housing and Urban Development recommends shading your windows from the exterior. Products applied to the exterior of the windows such as solar screens are as much as 7 times more efficient than products applied to the inside of the window such as tint, blinds or shutters. With solar screens the sun's heat is being absorbed by the screen before it has a chance to heat up the glass and anything else on the inside of the window thus gaining you energy efficiency.
If maximum energy efficiency and heat reduction is your goal, then solar screens are your best bet. In addition, solar screens are one of the most economical choices you can make to help keep your home cool and your energy bills low.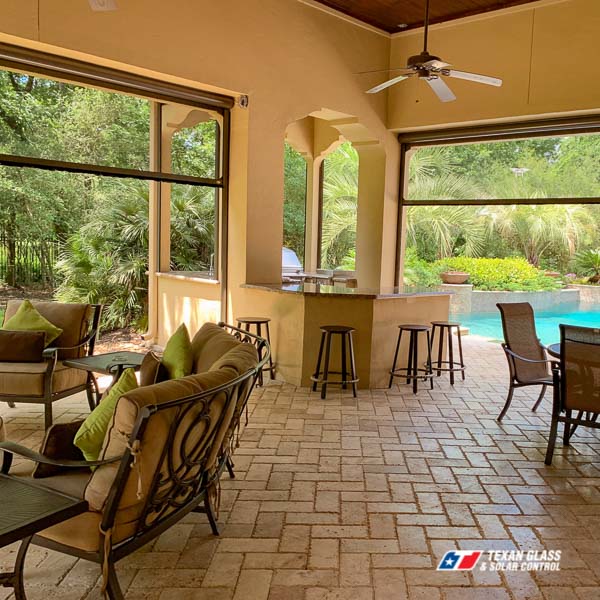 Choosing the Right Screen
In Houston, TX you've got many choices in solar screens. Materials, Color and Sun Blockage are all things to consider when having solar screens installed on your home. The good news is our professional team is here to help you through the process.